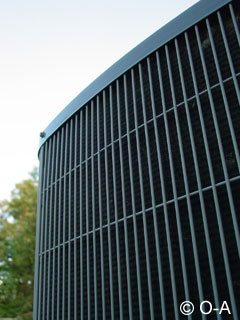 Heat pumps offer the most energy efficient way to provide heating and cooling in many applications, as they can use renewable heat sources in our surroundings. Even at temperatures we consider to be cold, air, ground and water contain useful heat that's continuously replenished by the sun. By applying a little more energy, a heat pump can raise the temperature of this heat energy to the level needed.
During the cooling cycle, a heat pump will remove heat and humidity from your home and will transfer this heat to the outdoor air.
During the heating cycle, a heat pump will remove heat and humidity from the outdoor air and will transfer this heat to your home. This is possible because even 0 degrees Fahrenheit outdoor air contains a great deal of heat. Remember that your heat pump doesn't generate much heat it merely transfers it from one place to another.
Heat Pump Characteristics
A Constant Heat...
A heat pump delivers a lower supply air temperature than a furnace over a longer period of time to provide a more constant heat. It may give you the impression that your system "never stops running", or "it feels like cold air". At times, the temperature of the air coming out of the vents is less than your body temperature so it feels like cold air. But it is still providing heat for your house. And when it can no longer keep-up with the heat loss of the structure, the 2nd stage or auxiliary heat will automatically energize, bringing on a much warmer heat.
Water Run-Off...
During the heating cycle, you may notice water running off the outdoor coil. Moisture from the air is condensed on the outside surface of the coil where it gathers and runs off. This is normal.
Outdoor Coil defrosting...
At certain conditions (low temperature, high humidity), frost, even ice, may build up on the coil of the outdoor unit. In order to maintain heating efficiency, the system will automatically defrost itself. Steam rising form the outdoor unit is normal and is and indication of proper operation. The vapor cloud will only last for a few minutes. When the defrost cycle is completed, the system will automatically switch back to heating. Supplemental heat is automatically energized to maintain comfort during defrost.
Heat Pump Tips
Set your thermostat at one temperature. Constant adjusting can cause higher utility costs, especially in the winter.
Clean or replace air filters monthly.
Keep area around outside heat pump clear of tall grass, shrubs and other debris.
Have your heat pump system inspected by a trained service technician at least one a year.