Nu-Calgon Three-Step Indoor Air Quality Solution
STEP 1 – CLEAN3 in 1
Clean indoor (evaporator) and outdoor (condenser) coils with Nu-Calgon's quality products that are designed to restore original BTU output and improve airflow.
STEP 2 – KILL BACTERIA
Improve Indoor Air Quality by killing bacteria on evaporator coils, drain pans and surrounding ductwork with Bio-Fresh cd or Evap-Fresh. Bio-Fresh cd is an EPA registered product that is a bacteriostat, fungistat and deodorizer. Evap-Fresh is both a cleaner and disinfectant that is also EPA registered to kill organisms typically found in HVAC systems.
STEP 3 – PREVENT
Place Nu-Calgon PanPads or Tablets, an EPA registered drain pan biocide, in the evaporator drain pan. This prevents biological growths and slime. This protection will last up to 6 months.
DIRTY COILS INCREASE COSTS: Dirty Evap
When a coil becomes fouled with dirt and grime, it cannot provide adequate or designed heat transfer causing higher discharge pressures. The higher discharge pressure requires more electricity… thereby, increasing the costs for operating the equipment. The energy consumption of equipment operating with dirty coils can be as much as 37% more than that used by equipment with clean coils.
DIRTY COILS REDUCE COOLING: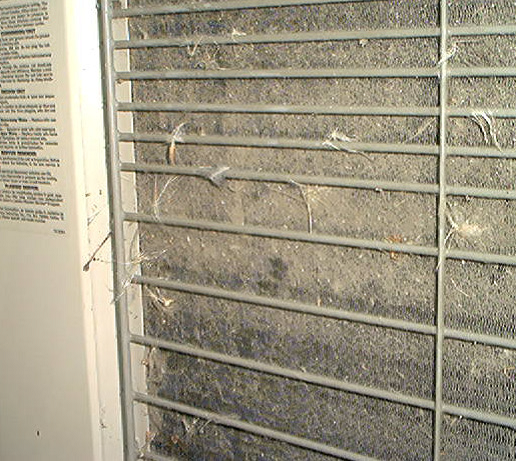 As the dirt and grime collect on the coils it restricts heat transfer causing the compressor to work harder. This adds more heat to the system and raises the head pressure as much as 75%. Higher head pressure can result in a loss of up to 30% of the system's cooling capacity. This loss will be most noticeable on the HOTTEST DAYS when cooling is needed the most!
DIRTY COILS SHORTEN EQUIPMENT LIFE:
Higher operating pressures and temperatures caused by dirty coils can reduce the equipment's life expectancy. The elevated system pressure and temperature can lead to the breakdown of the compressor's lubricant. In addition acid formation can occur, leading to an acid burnout. Lubricant breakdown and acid formation will seriously compromise the compressor and ultimately lead to equipment failure. Compressor failure means NO COOLING. No cooling means no comfort. And, a compressor replacement means a costly repair.
DIRTY INDOOR COILS AFFECT AIR QUALITY:
The evaporator, or inside coil, presents major concerns that include, and go beyond, the issues already discussed. A fouled and dirty evaporator coil creates a breeding ground for bacteria and mold that can impact the indoor air quality. Cleaning, Sanitizing and Protecting the evaporator coil and surrounding areas is critical. Specific cleaners and products will be required for these applications.